We only use cookies during our checkout.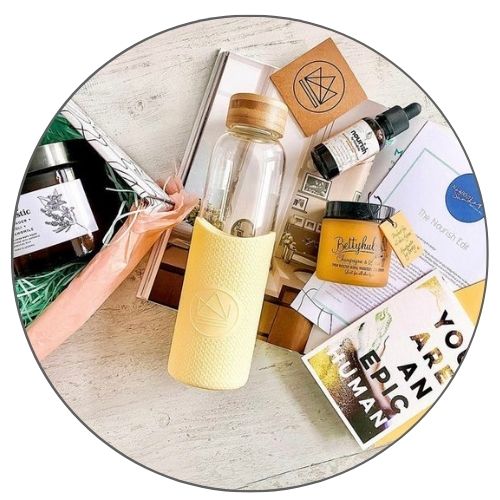 Let yourself be whisked on an easy wellness journey when you receive our flexible, bi-monthly, self-care-focused maintenance boxes. Each luxury box is designed to promote regular self-care by providing you with a minimum of FOUR wellness experience days per box. Unlike other self-care subscription boxes in the UK, you are provided with a balance of skincare, wellness, and positivity. Each box touches on various areas of self-care; that can help promote beneficial changes to build and support your mental and emotional wellbeing.

By allowing consistent time to work on your own self-care and wellbeing, you will not only reduce stress, and bring back balance to your life. You will be able to help those around you more effectively, whilst also help to improve and maintain your own mental wellbeing.

Treat yourself to an easy, relaxing, monthly gift of wellness. Packed with quality affordable British products that will entice you to want to experience that piece of calm again & again. All whilst subtly making the internal changes needed for you to gain a more balanced, happier lifestyle without breaking a sweat. Remember you are important too.
*Please Note: This plan will be billed every two months, and will auto-renew until you cancel. We also have cut-off dates on our boxes, so please read below for more details
Our boxes are guaranteed to contain:
A Facial Product,

A Scented Product,

Bath/Shower Product,

A Wellness Item Or Gift To Give Away (or keep, we won't judge!)

A Positivity Card/Print/Item.
Our products can range from bath bombs, body scrubs, bath salts, facemasks, facial scrubs, facial oils, candles, wax melts, scented body butter, positivity cards, greeting cards, prints, planners, journals, mindful teas, accessories, little crafting kits, small homeware gifts, the list goes on! If you are lucky you may even find a cheeky little, tasty treat for you to enjoy!
We use only use British brands, because we want to showcase and support local talent, up and down the UK.
When you purchase a box from us, you have supported a minimum of ELEVEN UK business.
Delivery, Cut-Off & Postage
We know there is nothing worse than not knowing when your subscription box will be getting dispatched or delivered, so here is some more information about our cut-off date, and shipping.

Billing & Cut-Off Dates:
This plan is billed, and AUTO-RENEWS every two months until you cancel.
For our Bi-Monthly Subscription - You will receive the following month's boxes; April, June, August, October, December, and February.
You can order one of our boxes from the 1st of that month, up to the 20th of the following month (see below example). From the 20th - to the last day of the month, you will be purchasing the following bi-monthly box.
(Example: You order between the 1st April - the 19th of May, you will receive April's box, which will be sent out from the 22nd of April, if you order from the 20th of May - the 1st of June you will receive June's box, which will be sent out from the 22nd of June)

Shipping & Delivery: All our boxes are distributed by Royal Mail, are sent via their 2nd class service, and should be with you within 2-3 working days. We ship from the 22nd of the month.

Postage: We charge £2.95 for postage at checkout.
Oooopsie, we can't tell you what is inside, each box is a surprise!
However we have featured the following ingredients in the past:
Almond Oil
Lavender Buds
Lavender Oil
Should you have any allergie concerns, please email us with your order number, name and allergy, and we will aim to provide you with an alternative product.
hello@allaboutsundaysbox.co.uk