We only use cookies during our checkout.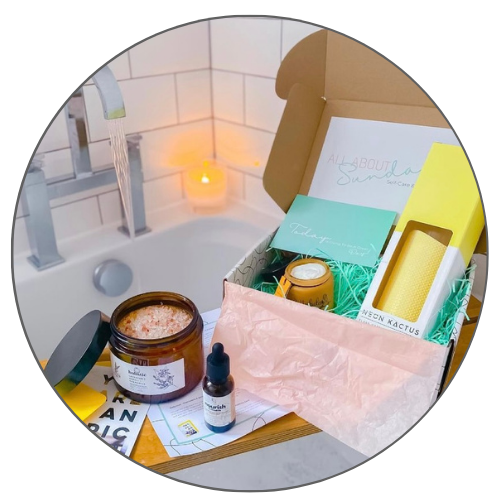 Give the gift of nourishment this winter with a gift box focused on helping you, or your loved one keep their body nourished.
Not getting your daily water intake can take its toll on both your body and mind, not to mention it can lead to you feeling extremely tired, getting headaches or migraines, dry skin, lack of concentration, and sometimes even body aches.
The Good Stuff:
Which is why we created a self-care and wellness focused gift box to help kick start you into building healthier habits around keeping your body hydrated.
We have started by including a wonderfully stylish, chemical-free, reusable glass water bottle. What's more, it can be used for both hot and cold drinks, making it the perfect accessory for when you are on the go!
We haven't forgot your skin either! We have included an beautifully scented, nourishing almond facial oil. A super relaxing and hydrating jar of bath salts, which can also be hacked in to a wonderful body scrub. An insanely addictive champagne & spice body butter, which is bursting with skin loving, super hydrating ingredients! Oh and we can't leave out the wonderfully positive card from Wendy Bell!
As always we have teamed up with some amazing brands to help us bring you a money-saving, self-care essentials pamper pack, worth over £60!
All our products are: Paraben-free, cruelty-free and the packaging All About Sundays Box uses is all eco-friendly.
Holistic London

- Sleep & Relax Bath Salts 400g

Betty Hula

- Champagne & Spice Body Butter 120ml

Gaia & Vie

- Nourish Facial Oil 30ml

Neon Kactus

- Reuasable Glass Water Bottle 550ml

Wendy Bell Designs

- You Are An Epic Human Card
Worth over £60!
Postage: Free Delivery
Shipping & Delivery: All our boxes are distributed by Royal Mai.
Tracked via 2nd class, and should be with you within 2-3 working days.
Holistic London - Sleep & Relax Bath Salts 400g
INGREDIENTS: Lavander oil, neroli oil, chamomile oil, epsom salts, himalayan salt
Betty Hula - Champagne & Spice Body Butter 120ml
INGREDIENTS: Aqua (Water), Cetearyl Alcohol, Glyceryl Stearate, Butyrospermum Parkii (Shea Butter),Cocos Nucifera (Coconut Oil), Theobroma Cacao (Cocoa Butter), Parfum, Glycerin, Xanthan Gum, Prunus dulcis (Sweet Almond Oil), Buxus chinensis (Jojoba Oil), Tocopherol (Vitamin E), Aloe barbadensis (Aloe Vera), Phenoxyethanol, Ethylhexylglycerin, Benzyl Alcohol, Citric Acid, Sodium Benzoate, Hexyl Cinnamal, Coumarin, Benzyl Salicylate, Citronellol, Alpha-isomethyl Ionene, Polyaminopropyl Biguinide, Amyl Cinnamal Linalool, Limonine, Butylphenyl Methylpropional, Hydroxycitronallal, Geraniol
Gaia & Vie - Nourish Facial Oil (30ml)
INGREDIENTS: Almond Oil & Lavender Oil
Neon Kactus - Reusable Glass Water Bottle 550ml
Made With: High quality borosilicate glass, Food grade silicone sleeve & bamboo lid
Wendy Bell Designs
Made With: Responsibly sourced, heavyweight card.
HURRY, ONLY 3 LEFT!!
RRP £63.96
Our Price £39.95