We only use cookies during our checkout.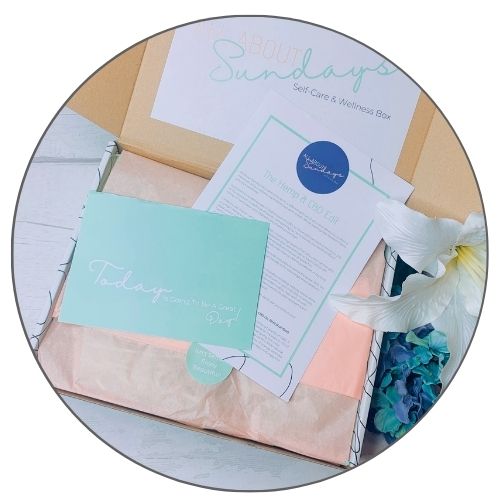 Love the look of our boxes but unsure whether to commit or not? Our Taster Boxes are just what you are looking for!
Chosen at random, each box will contain 4 FULL-SIZED items for you to enjoy, and the best bit is each box is guaranteed to be between £40 - £80! Meaning you could also bag yourself a real steal in the process!
You will still receive the same amazing quality products we use in our other boxes, and maybe even a cheeky taster box exclusive as well.
Each box is guaranteed to contain:
A bath/shower product
A facial product
Scented item
Wellness Item

All our products are: Paraben-free, cruelty-free and the packaging All About Sundays Box uses is all eco-friendly.
Please read our ingredients tab if you have any allergy concerns.
Oooopsie! We can't list the contents because it's a surprise.
Even we get excited to put them together, because we pick and choose products at random.
Delivery, Cut-Off Dates & Postage
Your extra bragain is that the postage is FREE!!
Shipping & Delivery: All our boxes are distributed by Royal Mail, using their 2nd class service. All orders should be with you within 2-3 working days from dispatch.
Giving the nature of our pick and mix selection the following ingredients may be in your box.
Almond Oil
Lavender
Lavender Oil
Should you have an allery, please email us after you place your order with your order number and allergy, we can make sure not to include any of these in your box.
hello@allaboutsundaysbox.co.uk

/** * @var $module \Ucraft\Module */ ?>
Mel H

"I am blown away by the attention to detail and thought process that has gone into the curation of this box. The love, care, and passion that Nia has for her vision behind this is undoubtedly shown in the end result. I see a lot of boxes, and by now I can appreciate when one has its own identity and place in the Subscription Box market. This one certainly does, and more so now than ever after the last year and how tough it has been for each and every one of us."

Kerry M

"Recently purchased the April Cleanse edit beauty box and I absolutely love everything contained within the box. Fabulous mixture of skincare, wellness, and positivity products. The care, thought, hard work, and high attention to detail in putting this box together is exceptional, even down to the environmentally friendly packaging. So glad i bought this and look forward to future self care days using great quality products. Highly recommend this business to anyone."

Read the FULL review here

Belinda B

" I totally LOVE self-care Sundays and this box really has everything you need for some fab TLC! "